In this guide, we will show how you can add additional IP addresses in Proxmox to be used on your VMs.
This requires you to have ordered additional IP addresses for your dedicated server. If you want additional IP addresses for your server, you can contact us by ticket.
First we must create a MAC address for our addon IP addresses.
Go to your client area and navigate to your server control panel, then click on "Manage IPs"
Then click on the wheel on the IP you want to create a MAC address for.



Here you select "Add a virtual MAC".
Enter any name for your MAC address. Example would be "VM1".
The type should be set to Standard. Then hit Confirm.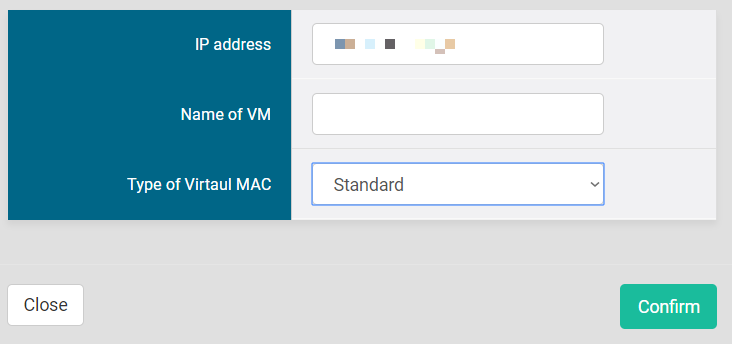 You can now add the new virtual MAC and the IPv4 address via the Proxmox VE GUI.
The GUI will add the required route to make the gateway reachable.
Let's for instance assume you have the IPv4 block 1.2.3.8/30. Then your addresses range from 1.2.3.8 to 1.2.3.11. In our network your gateway will always end with an octet of 254, so if your Proxmox VE host main IPv4 is 4.3.2.1, the gateway is 4.3.2.254. And the netmask is 255.255.255.255.
Assume we want to assign address 1.2.3.9 to a container, you will get the following.
That's it!